In today's world, technology is a key aspect to all parts of your business. From accounting and management to day-to-day communication, more and more parts of your business are performed solely on computers. Companies must take advantage of today's technology to stay competitive. With the importance of computers and technology, it is critical that every organization has a complete solution to deal with the threat of data loss.
Use our Recovery Time Objective (RTO) Calculator tool to easily estimate the cost of an outage for your business. Click the link below to utilize this informative tool.
70% of businesses that suffer a serious data loss are out of business in two years.
On-demand access to your data is paramount in today's economy. Days, hours, and even minutes of downtime can incur huge costs, loss of revenue, and loss of reputation while you are trying to get back up and running.
With a Cyber Solutions Business Continuity Solution at your disposal, these worries are a thing of the past.
Constant Uptime
A backup taken on a Cyber Solutions Business Continuity appliance is capable of being instantly recovered for the fastest restoration available in the market, regardless of the disaster.
Simply Secure
Cyber Solutions provides peace of mind for your data. Stored on a secure on-site appliance, as well bi-coastal data centers, your data is always available, no matter what happens.
Smarter Reliability
Our Screenshot Verification Technology lets you know that your most recent backup is viable for instant restoration, and will even inform you if there are dormant problems that you may not even know of.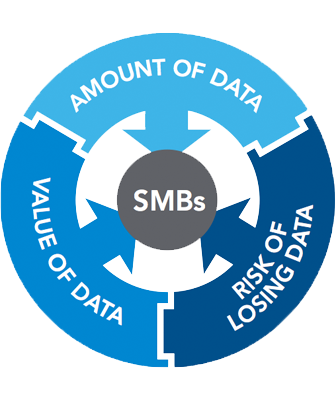 When it comes to keeping your information backed up, Cyber Solutions offers an affordable and easy solution. We provide a simple, secure, and automatic method for both on-site and off-site data storage in one simple and easy to use device. Each of our solutions is a specifically designed Network Attached Storage (NAS) device operating as a secure location to backup files. The device creates an encrypted copy of all files stored at the on-site location and also at dual secure data centers located on the east and west US coasts. In the event of accidental deletion, loss of production machine, or complete site outage, files can be quickly restored, systems virtualized, and complete offices started up in the cloud. Cyber Solutions backup solutions ensure your vital information is always safe and secure, making the once painful chore of on and off-site data backup easy and reliable.