IT Services Buyer's Guide 2021
Whether you choose us as an IT Partner or someone else, consider taking the time to read this guide.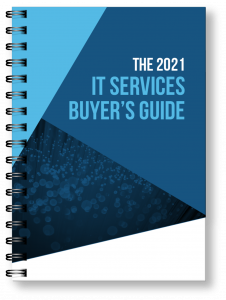 I'll cut to the chase. Click the book image to the left to download the PDF.  We won't ask you for any information.  However, if you're still uncertain that the guide may not be worth your time, read on.
Deciding on an IT Partner is a daunting task.  Every business uses technology to some degree and some of the most critical business information is being managed by your IT Partner.
When things are running smooth, your team can focus on what they do best.  On the other hand, if you experience constant technology issues, your team gets frustrated and productivity dips.  It can be exhausting.
I don't think it's an over-statement to claim that the pandemic has changed how we live and do business.  This includes how a business uses technology.  In the last 12 months or so, we've been asked countless times how best to use technology in this "new world".  (Ok, that was probably a bit overdramatic).
So, we wrote this guide to help companies navigate a decision that is vital to their success.  We do our best to stay neutral and focus on the information you'll need to make this decision.  But I'll admit, we're proud of the way we do business and the last few pages do focus on us.  But, beyond that last bit of self-promotion, the book will help you be better prepared to interview and choose an IT Provider. In the guide, you'll learn:
Why it's important to have a partner that helps you think strategically
A few reasons why business owners choose to switch IT (not all reasons are bad)
How best to protect one of the most important assets you own
And while this might surprise you, it's important that you remain highly skeptical of all IT support businesses (yes, including us)
Hopefully I've convinced you to at least take a peek at the guide.  We don't ask for any of your details.  Just click this link to download the PDF.
If you'd rather jump on a call, let's take 15
minutes to get to know each other.
To be honest, we're not for everyone.  At some point, it will make sense for us to take 15 minutes and "check out the fit".  If you're ready, either give me a call at 651.209.3120 or take a look at my calendar below and schedule a 15 minute call.